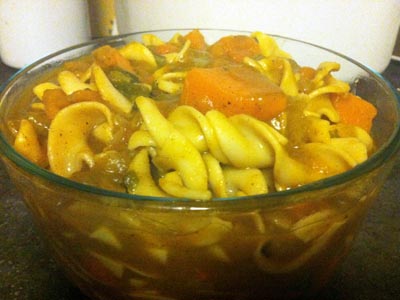 It's the season for winter squash, and the produce section of my local grocery store has an enormous variety. The other day, I picked up delicata and sweet dumpling squashes, which I love, and a gold nugget squash, which I've never tried until tonight.
The gold nugget squash looked a bit like a warty, undersized pumpkin, and when I finally chopped it open today I was surprised by how much it smelled like a melon or a cucumber, or some unholy union of the two. So strange! But it turned out to be delicious, so have no fear.
Anyway, I seeded it, then baked it face down in a casserole dish until it was soft. I also wrapped a sweet potato in aluminum foil, pierced it a few times, and baked it, too, thinking I might make a puree type soup. In the meantime, I poked at recipes on the internet, and remembered I had Swiss chard in the garden. Inspiration struck, and I invented an interesting vegetarian noodle soup, which I share here in case any of you might enjoy it.
Autumn Noodle Soup
1 small golden nugget squash. (Butternut or acorn squash would substitute fine, I'm sure.)
1 med. sweet potato.
1/2 small yellow onion, diced
1-2 celery stalks, diced
2 med. carrots, peeled and diced.
small bunch swiss chard. (4-5 stalks/leaves.)
1 tsp cinnamon
1/2 tsp nutmeg
1/2 tsp rosemary
1/4-1/2 tsp ground ginger, to taste
salt and black pepper to taste
1-2 TB olive oil
3-4 cups vegetable broth, or equivalent bullion and water
2 cups dry wide egg noodles
Directions:
Cut the squash in half, seed it, and bake it (350 degrees) face down in a ceramic or glass baking dish, uncovered, until it's soft enough to pierce easily with a fork. Wrap a sweet potato in aluminum foil and bake it, too. It'll probably take a little longer than the squash, but that's okay.
Prepare egg noodles in a pot of boiling water. While egg noodles are cooking: Heat olive oil in a medium sized pot, add onions and saute until translucent. Add diced carrots and celery, continue to saute, stirring frequently. Add rosemary, nutmeg, ginger, and cinnamon. When mixture begins to stick, add 1 cup of broth. Remove stalks from Swiss chard. Dice and add stalks to broth mixture. Slice greens and set aside.
If you time this right, your winter squash should be ready to come out of the oven. Remove, peel (burn your fingers frequently on peel!), mash and add to mixture, stirring it in well. Taste your broth now, and adjust seasonings if desired. Add salt and pepper. (I added more cinnamon and nutmeg, but since I eyeball-measured to start, you may not need to.)
When mixture begins to boil, add remaining broth. When noodles are soft, drain, then add to broth mixture. Add Swiss chard greens. Remove sweet potato from the oven, peel (burn your fingers again!), quarter, then slice into bite-sized pieces and add to noodles and broth. Gently mix everything together well.
Enjoy!