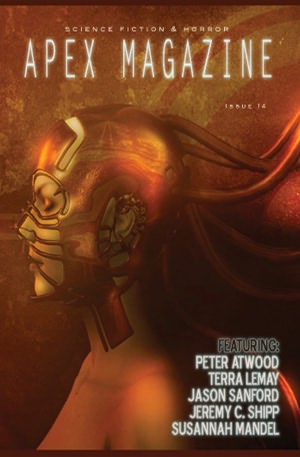 My story "Schrödinger's Pussy"* is now available at Apex Magazine.
I am, of course, over the moon. In no small part because the issue has the most gorgeous cover artwork ever, and because it appears there is an audio version of my story, too, read by the lovely Alethea Kontis, and which I had no idea was in the works. I can't wait to listen to it. I routinely read my work aloud when I'm writing, but I've never ever ever heard anyone else read my fiction out loud before.
If you enjoy my story or any of the others, please toss a few bucks to Apex. I will be paid regardless, but if you give money to Apex, they can buy more wonderful short fiction for all of us to enjoy.
*an interesting anecdote: This story changed titles several times during my writing of it, then changed again after it was accepted for publication, then changed one last time when the editor decided my original title was actually the best title after all. If any story I've ever written deserves to have more than one title, it's this one, so I think it's a small kind of wonderful that the audio version is introduced by one of the previous titles, "A Multiple Choice Love Story."